Paw Yoga Manchester
Welcome to Manchester's cutest puppy yoga class! Based in the city centre, we are inviting all animal lovers and yogis to join us for a class like no other. Come along for an hour of complete happiness and relaxation, whilst being surrounded by the cutest puppies!
How to book
To book tickets for our next events, simply click the book now button below. To be the first to know about all of our upcoming ticket releases, sign up to our newsletter or follow our social media channels. We can't wait for you to join us on the mat.
Book Now
1st Anniversary
Paw Yoga Manchester is one year old! Thank you to everyone who has joined us over the past year. We've had a pawtastic first year and celebrated with 2 days of paw-ty themed classes.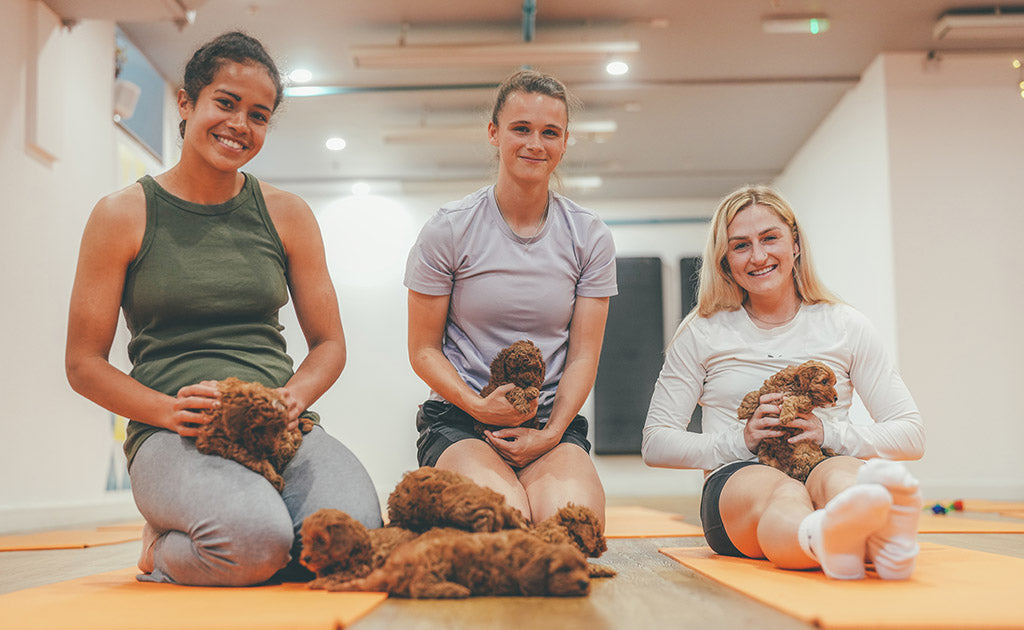 Manchester City Women's Football Team
The calm before the score! Kerstin Casparij, Mary Fowler and Laura Coombs found the paw-fect way to relax at our puppy yoga sessions. The animal-loving trio joined us for an afternoon class with the cutest litter of 10 toy cockapoos. The su-paw star players left the class feeling relaxed and energised and have already been back for a second class!
Classes

Our classes are one hour long and consist of 30 minutes of yoga and 30 minutes of puppy playtime. The classes are aimed at all abilities, so not to worry if you've never done yoga before! All of our events are held in Manchester city centre which can easily be accessed via public transport.

Puppies

Ensuring the well-being of the puppies is our utmost priority at Paw Yoga. All attending puppies are vaccinated and of appropriate age. We strictly refrain from mixing litters from different households, and we warmly welcome the mother to join the sessions. Our exclusive collaboration is limited to trusted and ethical breeders, ensuring that the puppies originate from nurturing homes. Playtime is an essential part of their socialising and development, so by attending classes the puppies get used to being around humans before they are adopted.

Well-being

Puppy Yoga has so many benefits beyond just making you smile and feeling all fuzzy inside. We are passionate about mental health and wellbeing and aim to make each class as relaxing as possible. Both yoga and spending time with puppies has been proven to reduce stress and improve mental health and wellbeing.